We went back to the farm yesterday.  This time it in addition to myself and B- V came w/ her 2 little ones and S came w/ her little daughter- 8 weeks old. 
All the kids had loads of fun.  Both C and O are potty training.  I am sooo not looking forward to this as both mums are having a hard time of it.  One of the good things about being friends w/ mums who have kids older is that you can see up close and personal the hell that you'll be experiencing soon.  I try to see how they do it and hopefully I'll learn from them.  Anyhoo enough of my jibbering.  On to the photos.
All of them for a group photo. Top- J , O and Squidge.  Bottom is N, C and D.

My little farm girl.  Don't you just love the wellies!?!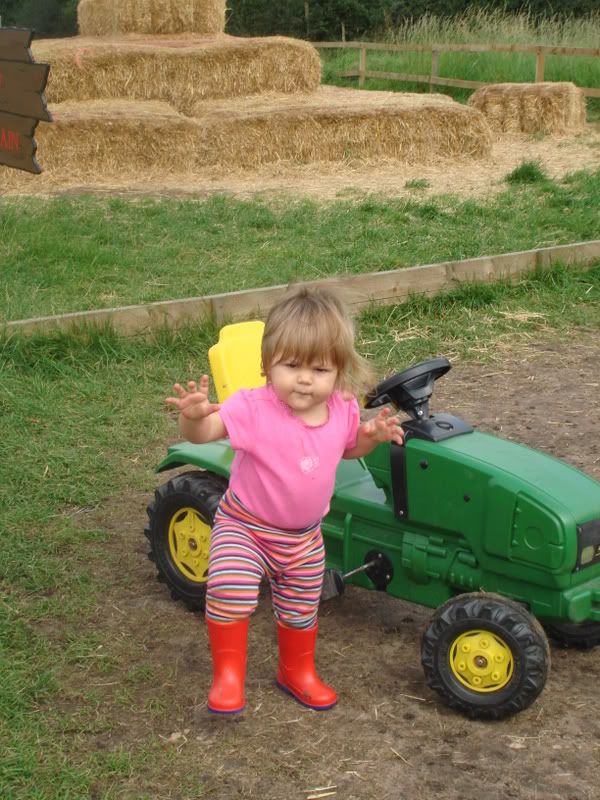 And here she is playing in the sand pit.  I was very pleased because I didn't see her eating any sand. 

Pleased until B emailed me this photo!  Not content to eat if by the hand full she now uses tools!

C looks like she's thinking ' I can check my own damn tires' and O being rather chivalrous- making sure her ride is safe.  It's either that or he just likes looking at tires/tyres.

B going for a ride on the 'train'.  Doesn't she look pleased?!?

Again fun was had by all.  Squidge had an ABSOLUTE meltdown when I put her in the car.  She screamed until we go to the motorway.  She fell asleep and continued to cry in her sleep.  She woke up from her nap even more pissed off and screamed some more.  Ah fun times indeed!